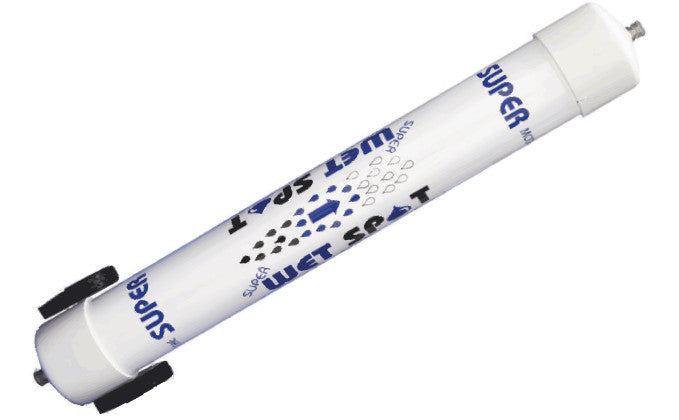 WetSpot Super
The Super unit is the largest capacity WetSpot and is built for boats 100' plus OR boats under 100' that spend a majority of their time outside of the U.S. in extreme hard water situations (i.e.-South America, the Bahamas, the Virgin Islands, Spain, Croatia, etc). This unit will soften an average of 4000 gallons of average hard water (8 grains of hardness), before it needs to be recharged.
Considering "normal" usage, a WetSpot Super will need to be recharged about every 2 months, this is an estimate and is based on washing a 100'+ vessel 3-5 times per week and filling your on-board fresh water tanks once.
Please note that this unit is heavy and requires two people to handle it. In some cases, it may be more efficient to use 2 WetSpot Plus units instead of 1 WetSpot Super. Some customers have opted to put one Plus on a top deck and one Plus on a lower deck for maximum convenience when washing down larger vessels.
Specifications: 45"L x 10.5" H x 7.25" D  50 lbs. dry
---
---
More from this collection